Sorry, we're closed! I'll be on vacation soon and won't be taking anymore commissions until I get back.
I'll leave the info on this post incase anyone wants to commission me when I return:
If you're interested, please read ALL the following information before you contact me.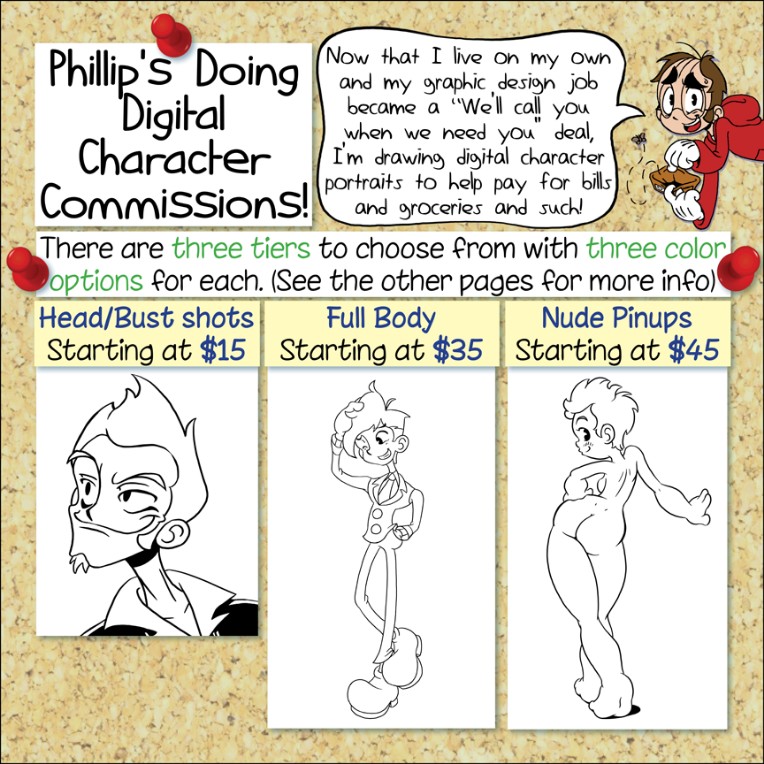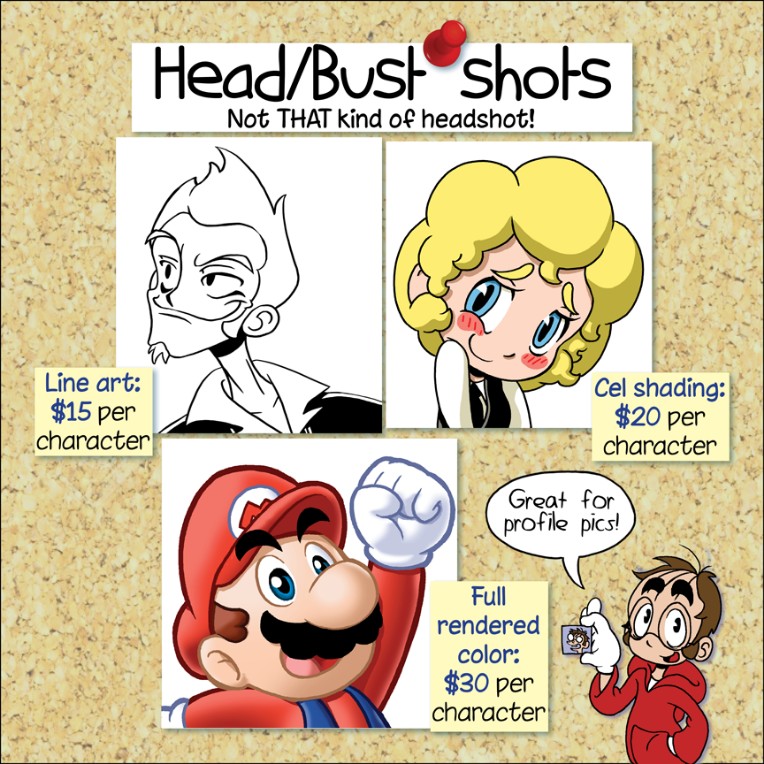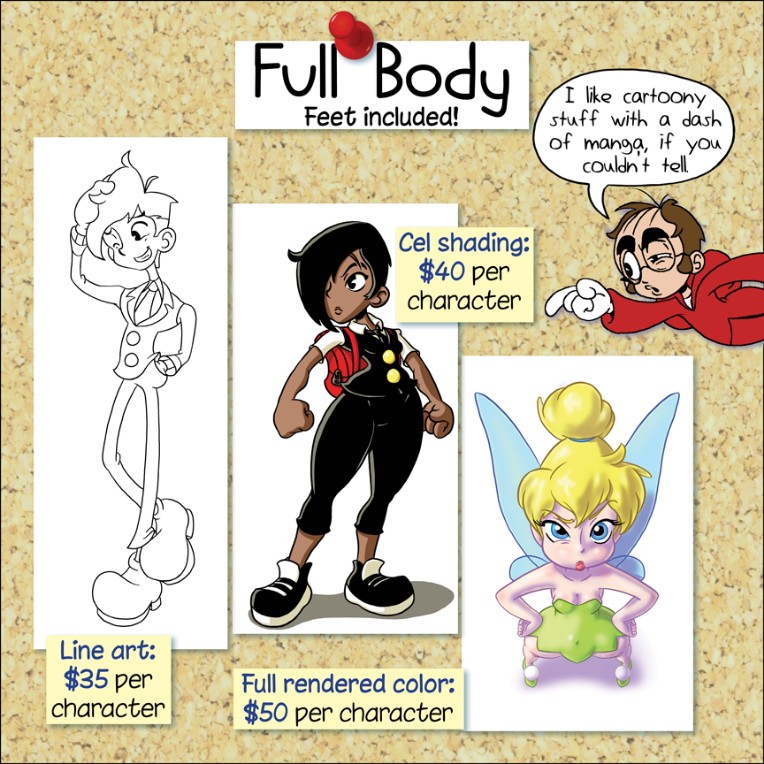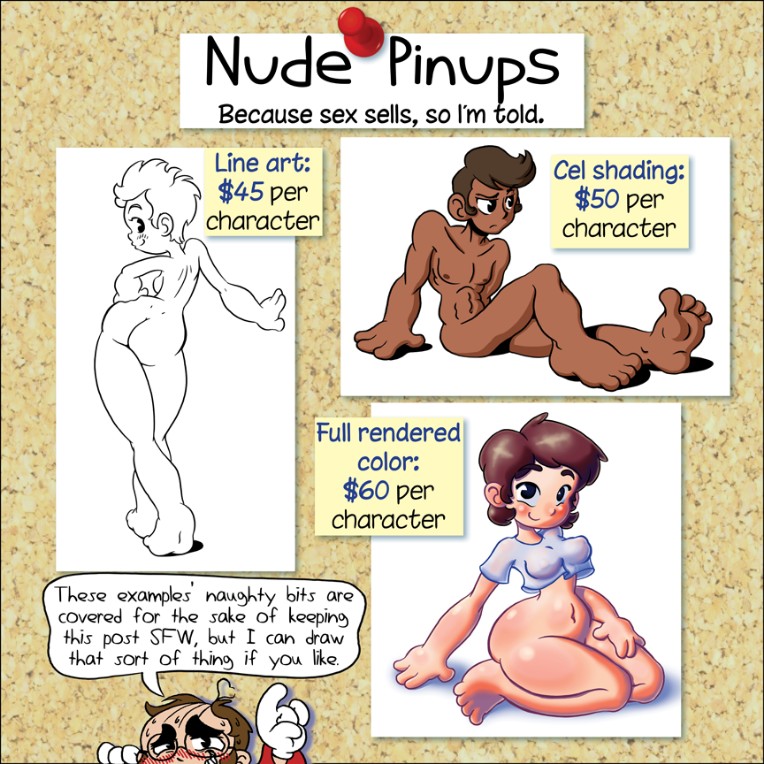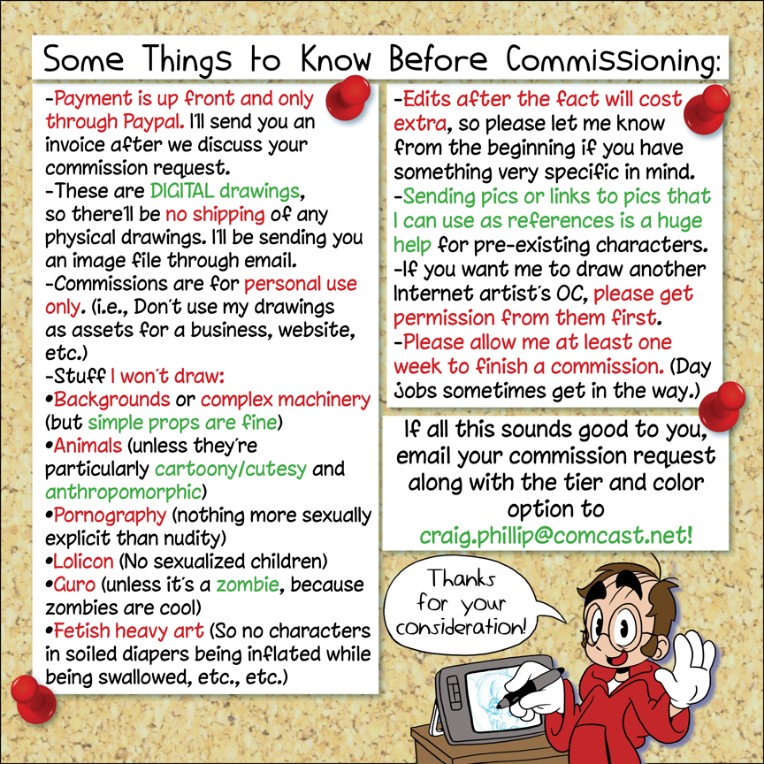 The following text is all the same information from above, just in case you can't look at the images for some reason:
Phillip's Taking Digital Character Commissions!
Now that I live on my own and my graphic design job became a "We'll call you when we need you" deal, I'm drawing digital character portraits to help pay for bills and groceries and such!
There are three tiers to choose from with three color options for each:
Head/Bust shots: Starting at $15
Full Body: Starting at $35
Nude Pinups: Starting at $45
Head/Bust shots
Not THAT kind of headshot!
Line art: $15 per character
Cel shading: $20 per character
Full rendered color: $30 per character
Full Body
Feet included!
Line art: $35 per character
Cel shading: $40 per character
Full rendered color: $50 per character
Nude Pinups
Because sex sells, so I'm told.
Line art: $45 per character
Cel shading: $50 per character
Full rendered color: $60 per character
Some Things to Know Before Commissioning:
-Payment is up front and only through Paypal. I'll send you an invoice after we discuss your commission request.
-These are DIGITAL drawings, so there'll be no shipping of any physical drawings. I'll be sending you an image file through email.
-Commissions are for personal use only. (i.e., Don't use my drawings as assets for a business, website, etc.)
-Stuff I won't draw:
•Backgrounds or complex machinery (but simple props are fine)
•Animals (unless they're particularly cartoony/cutesy and anthropomorphic)
•Pornography (nothing more sexually explicit than nudity)
•Lolicon (no sexualized children)
•Guro (unless it's a zombie, because zombies are cool)
•Fetish Heavy art (So no characters in soiled diapers being inflated while being swallowed, etc., etc.)
-Edits after the fact will cost extra, so please let me know from the beginning if you have something very specific in mind.
-Sending pics or links to pics that I can use as references is a huge help for pre-existing characters.
-If you want me to draw another Internet artist's OC, please get permission from them first.
-Please allow me at least one week to finish a commission. (Day jobs sometimes get in the way.)
If all this sounds good to you, email your commission request along with the tier and color option to craig.phillip @ comcast.net!